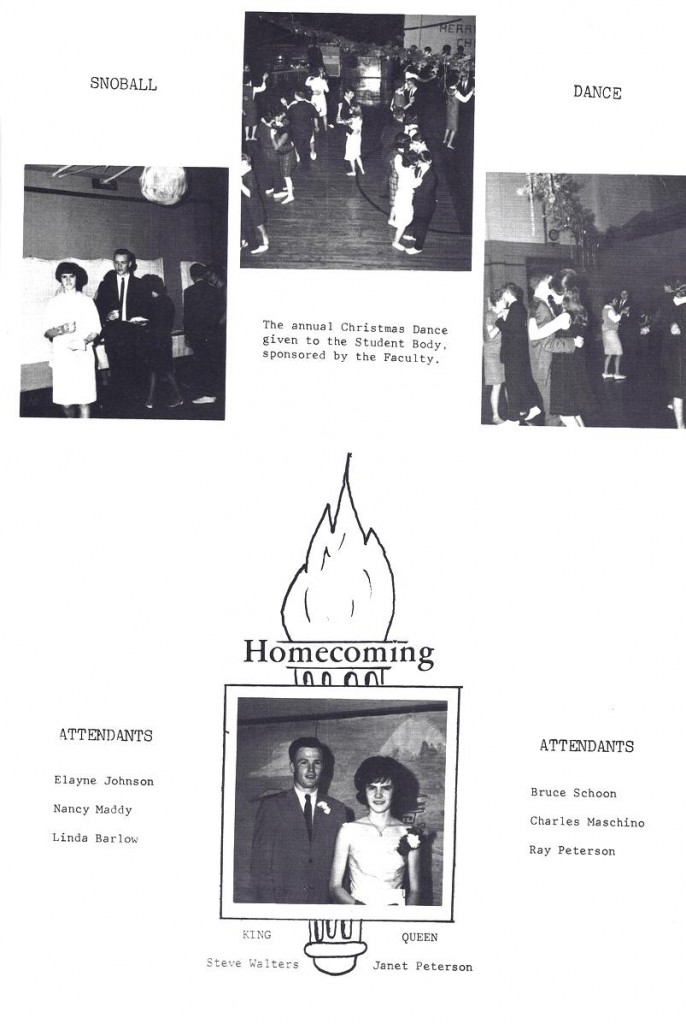 Our freshman year, we now get to sit in the big study hall with all of those who are in High School. Our high school journey has now officially started and we are full of hope and promise. Starting in the fall of 1964 there were 18 of us in the class of 1968. They were: Nick Baskerville, Vicki Burditt, Carlotta Delano, Joyce Eccer, Becky Gottschalk, Jane Hatteberg, Myron Hatterberg, Darlene Hunter, Philip Kelly, Dick Murphy, Pat Murphy, Karen Nieland, Joleen Reis, Steve Schossow, Linda Seagren, Don Smith, Dennis Stafford and myself. We lost Barb Meyer and Paul Erickson. We gained Joyce Eccer, Becky Gottschalk, Pat Murphy, and Karen Nieland.
Our year started out very nicely with Freshmen initiation, we had to wear burlap bags all day long and the seniors had plenty of things for us to do which for the most part was all in fun. On Friday night we had the big initiation where each person gets their turn. I had to sit on a block of ice while the proceedings went on during the evening, as I was told I thought I was a "hot" trumpet player and needed cooled off. Obviously there wasn't much feeling left in the buttocks after having sat on the ice for about 30 minutes. The next tradition was to take the freshmen out and "dump" them, basically take them out of town and leave them and make them walk back into town. Steve Walters and Bruce Schoon were the designated dumpers of myself and Dennis Stafford, they took us out of town about 2 miles and we got out of the car and started to walk back into town. They didn't leave us long as it was very late in the evening, however, some of the parents got wind of this and went to find their children, my father being one of them. Now my father was not someone you messed with, and he did find us before Steve and Bruce did and there was heck to pay! The parents were calling Tom Adams, the principal, and were quite unhappy.
Baby Boomers are those children born between 1946 and 1964. To me the Class of 1965 is probably one of the best classes to ever come out of Fonda High School. People of character, integrity, and people who knew right from wrong. Really the first or second class of "Boomers" to graduate from High School. I do have a theory that suggests that the earlier "Boomers" to graduate took on more of their parents' viewpoints and culture and the younger ones became the more spoiled, the more pampered, and less independent, and not as accepting of their parents' value system.
Since we didn't play football in Fonda, the basketball season was always looked forward to. This year should be a good year for both of the girls' and boys' teams, as they have alot of returning players.
Girls team posted a 12 win 5 loss team, losing to Schaller 70 to 54 in the Sectionals. They were led by Dee Ann Darling and Janet Peterson in the forward court and Nancy Maddy and Elaine Johnson in the guard court. Girls basketball in those days was the 6 on 6 version, with three guards and three forwards. A much better game than today's attempt at women's basketball. They were coached by Lee Hurlburt.
The boys' team was coached by Phil Rihner. Expectations were high, as the team had returning Charley Maschino, Steve Walters, and Bruce Schoon, who were all starters the year before, and we were adding Bruce Adams and Darvin Dirks. The team started out slowly; however, they played well enough in the middle of the season to end up winning the CPW Conference Championship.
Charley Maschino was first team all conference and Steve Walters was second team all conference. I remember we beat Pomeroy 64 to 61. It was a big game to us because it counted as either two wins or two losses, since we only played them once during the year. Pomeroy was a big favorite. They were very good. Pat Murphy, a freshman, was playing alot now and was very good. Pat made two free throws in the last minute of the game to help preserve the victory. Quite an accomplishment for a freshman!
We lost to Schaller 72 to 50 in the sectionals to close out the season at 10 wins and 8 losses. Honestly, the team had much more talent than the wins and losses showed, and was coached by a wonderful man who knew absolutely nothing about basketball. My season was dressing some for the varsity games and playing in the JV games. I was not very good at the beginning of the year. I was only 5′ 4″ tall and had only played 8 games of basketball in my life. I was way behind the others in fundamentals, yet I had alot of drive and desire to be good. I did get to dress for the sectional game against Schaller. I remember we got new uniforms for the game. Since I was the last person to dress I got the last uniform, the number was 54. If you know anything about uniforms, the bigger the number, the larger the uniform. The armpits were down to my waist, it was so big for me—but I did get to suit up. I did also get to play the last minute of the game. I took a shot that hit the side of the backboard, not a good shot, yet I did get one off.
Since we did not have football in Fonda, our homecoming every year was during the basketball season. We, like other schools, always had a King and a Queen. The Queen that year was Janet Peterson, and the King was Steve Walters. Steve Walters was a hero of mine—he was smart, artistically talented, had a great car and wonderful parents. He was the one I would have wanted to be most like. I always had a huge crush on Dee Ann Darling and Linda Barlow. Do you remember being a younger man and wishing you could have the woman of your dreams? Well, either one of them would have done very nicely for me. LOL! Both were very pretty, and smart, and always nice to me.
Marching band was great fun with this group. We would always take a couple of trips a year. We usually went to the Drake Relays in Des Moines, Iowa, usually marched at the Morningside College parade in Sioux City, Iowa, and the Buena Vista College parade in Storm Lake, Iowa. This was a great group to go with, we sang on the bus, and the older ones took care of the younger ones. I remember that Ray Peterson was the best marcher I ever saw. Ray played the saxophone and marched with his knees high and a smile on his face. We all should have marched like Ray and enjoyed it as much as he did.
The year ends, and a great class now leaves to follow their own dreams.