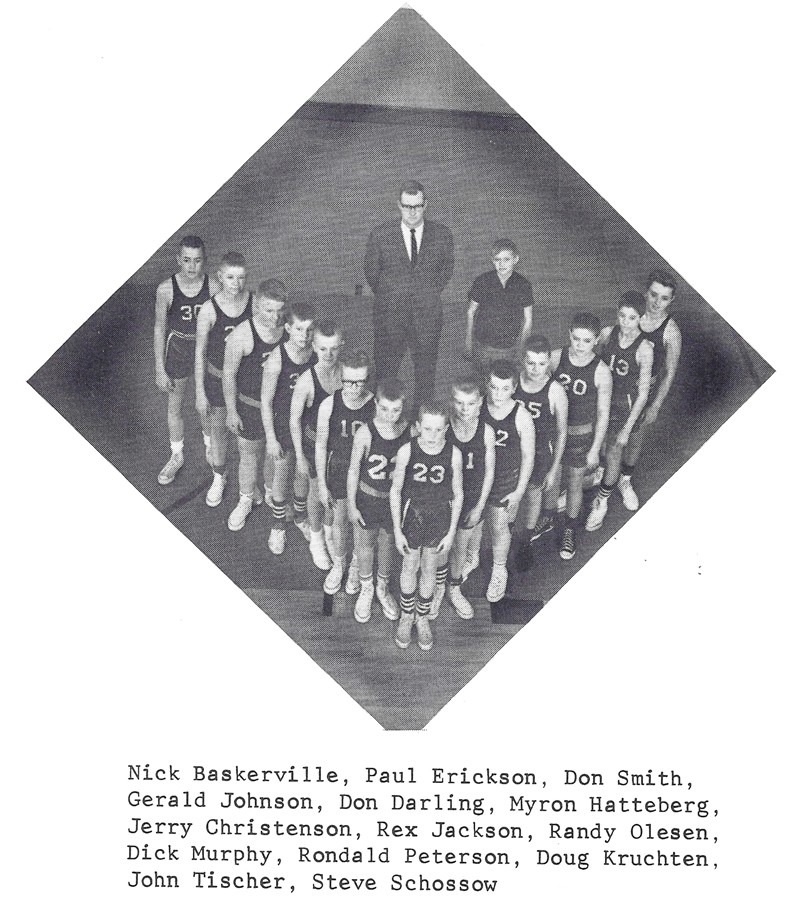 The eighth grade year was a new adventure for me. Much smaller school, knew your classmates more closely. Being in a small school was good because it took everyone to be involved in things to get them done. In our class was:  Joleen Reis, Dick Murphy, Paul Erickson, Jane Hatteberg, Carlotta Delano, Steve Schossow, Myron Hatteberg, Nick Baskerville, Barbara Meyers, Don Smith, Darlene Hunter, Vicki Burditt, Linda Seagren, Dennis Stafford, and myself.
My first real excitement was our first marching band trip. I had played trumpet in the 7th and 8th grade bands in Sioux City and wasn't going to be in the band at all in Fonda. My father bought me a brand new trumpet though to entice me to join the band. I don't remember where the first place we went was to march, however, I got to march right beside Ross Nixon. Ross was the coolest guy in the senior class, very good trumpet player, excellent basketball player and athlete. Ross was the man.
Fonda had a pretty good basketball team with Ross Nixon and Charley Maschino being all conference. Both Sam Withers and Steve Walters were excellent players as well, Bruce Schoon and Bruce Adams were also good players on the team. The basketball team was 8 and 8 for the year with some high moments as well as some low moments.
The girls basketball team won the county tournament that year, beating Pocahontas 73 to 68. They really had a very good team and played very hard. All of their games were close and they lost to Rockwell City 78 to 76 in the sectional tournament. Girls played 6 X 6 in those days and the games were exciting and fun to watch. Dorothy Jackson, Elayne Johnson, Nancy Maddy and Delored Dirks were the main guards and Janice Hatteberg, Dee Ann Darling, Janet Peterson and Judy Johnson were the main forwards. These were very good basketball players who also happened to be very good people.
Our 8th grade basketball team was 6 wins and 2 losses that year. The girls had the same record.  Denny Stafford was our best player, with Gerald Johnson also being good. I played guard and did ok. For the girls teams Jane Hatteberg and Jane Stauter were the best forwards and Linda Seagren and Carlotta Delano were the best guards. We were full of hope for being the future stars of the school.
We played spring baseball in Fonda. I played in all of the games we had, though I don't remember how many there were. I don't think we played that many. I do remember losing to Pochahontas Catholic in the sectionals that year. I did get a hit.
Every year in Fonda we had an all school carnival. The gym was decorated, you had booths to play games in, throw darts, pie sales, all to raise money for the school. One of my favorite memories then was of the talent show that was put on every year. That show was done in the home economics room. We had our little band that played and different people would put on acts.
The biggest draw was the hula girl dancers. Men dressing up as hula girls and they would come in and we would play the Hawaian War Chant while they danced as hula girls. Was incredibly funny and fun and the room was always full. Gene Walters was the Master of Ceremonies who would introduce the acts. He would dress up in a tux with a white coat and flower and his wife LaVonne would also assist. After we would do our last show, Gene and LaVonne would always go down and buy maid rites and pop for all of us and we would sit around and talk about the evening and how much fun we really had.
In the band was Steve Walters, Ray Petersen, Bruce Adams, myself and Mr. Gottfried who played the drums. Those were wonderful times and I would love to do them all over again.